We welcome you to Oncology Hematology Associates (OHA). Our practice is staffed by an experienced multidisciplinary team of professionals dedicated to patient care. We provide expert care to our patients while respecting their dignity and life choices. We offer state-of-the-art oncology and hematology care throughout the region to all patients. We understand the difficult journey that our patients and their families face while battling cancer and blood disorders. Our patients take comfort in knowing that we have been serving the region since 1979, providing exceptional medical expertise, genuine compassion and unwavering emotional support. We encourage family members being present during visits and welcome any questions you may have regarding treatment options or specific services.
New Patient Appointments
Our services are available to all who seek them.  You may become our patient through a physician's referral or transfer. We welcome the opportunity to provide second opinions because an initial diagnosis can be stressful and we strive to keep waiting times for appointments to a minimum.  Be assured that our providers will do their very best to help you. For new patient appointments, please consult your primary care provider or specialty provider for a referral or call (417) 882-4880.
If you have already scheduled an appointment, please download our new patient forms by following the link below. Fill out all forms and bring them to your appointment.
Release of Patient-Identifiable Health Information
What to Expect During Your First Visit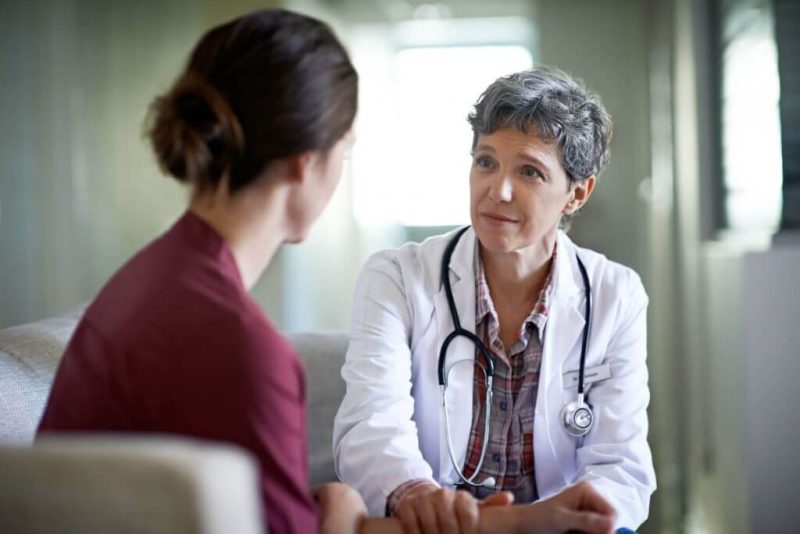 To better serve you during your visit, we ask that you bring a list of your medications, prior illnesses, previous surgeries and current allergies. Always bring your insurance card, and let us know whenever you change your address, telephone number, employment, marital status or insurance. We accept most major insurance plans.
During your initial office visit, you will have the opportunity for an open conversation with your physician. You will learn about your treatment options, what is involved with each, any potential side effects and how our team will guide and support you. If you can, bring someone with you such as a family member or friend to be another set of ears in the room. In addition to providing emotional support, they can help you remember what the physician says, take notes for you and remind you of key questions that you want to ask.
Providing Advanced Cancer Care, Close to Home
It is the mission of OHA to bring state-of-the-art treatments to patients and their families in a comfortable and caring environment. Treatments for cancers and blood disorders are customized for each patient. Many factors come into play such as the type of cancer, its stage and location, general health, age and medical history. After reviewing the benefits and risks for your treatment options, you and your doctor will chart a course together. We provide the best treatment available while helping you to continue with your normal daily schedule as much as possible. Patient reactions to treatment may vary, so the best way to prepare is to be informed. We will address all your questions including side effects, treatment frequency and medications. We will also talk about any possible impact to your work and personal schedules.
Each treatment plan is unique. Our role, after thorough diagnosis and analysis of your particular condition and situation, is to orchestrate the delivery of an agreed upon treatment plan. We provide many treatment services inside our clinic. Some services, such as surgery and radiation therapy, are coordinated through our office.
Keep Your Primary Care Physician
Many patients have underlying medical conditions that our physicians do not manage. We ask that you maintain an ongoing relationship with your primary care physician, as we will rely upon your physician to continue refilling your regular medications for medical care not related to chemotherapy. You should also continue to rely upon your primary care physician for hospitalizations not related to your cancer treatment.
Prescriptions and Refills
As you prepare for each office visit, take time to make a list of all your medications. Notify your pharmacy when you need prescription refills with the exception of pain medications. We cannot refill pain medications after hours or on weekends. You will need to contact our office 24 hours in advance for pain medication refills.
Patient Education
Before beginning any chemotherapy or biotherapy treatment, you will meet with one of our nurse practitioners or registered nurses for a full hour education session to review the medications you will receive and any possible side effects.
Appointments
Although we make every effort to see you on schedule, there are emergencies that arise that result in your physician being delayed. If this situation occurs, we will make every attempt to keep you updated. We appreciate your patience and understanding.
Cancellations
If you need to cancel an appointment, including appointments for off-site tests and procedures, please call us 48 hours in advance. This courtesy allows us to reschedule you at the earliest available time and provides another patient the opportunity to schedule an earlier appointment time.
Children
To maintain the healthiest environment possible for immunosuppressed patients:
Children under the age of seven are not allowed in the clinic
Children 12 and under are not allowed in treatment areas
Fees
OHA is a Medicare participating provider.
We file all primary and secondary claims. Any benefit we receive from an insurance company or government agency will be applied to your current balance or refunded to you if your account is paid in full.
Payment is expected at the time of service unless prior arrangements have been made. It is the responsibility of the patient, or a designated family member, to pay all fees. We provide an on-site financial counselor to answer insurance questions you may have, assist with financial concerns, or to arrange scheduled payments to your account.